Kinematch custom-made patellofemoral partial knee replacement surgery.
 Paul's Kinematch custom-made patellofemoral partial knee replacement.
Paul is 58, and he presented to me last year with severe pain at the front of his right knee, with restricted function. Imaging showed evidence of severe patellofemoral arthritis at the front of the knee, although thankfully, Paul's main weight-bearing surfaces (his medial and lateral compartments) were still in good condition.
On 13th December 2022 Paul underwent surgery under my care with a Kinematch custom-made patellofemoral partial knee replacement.
The shape and contours of the trochlear groove at the front of the femur are complex, and they can vary considerably between different individuals. It's extremely difficult to get a good fit every time with a standard off-the shelf prosthesis. Therefore, my standard prosthesis for every patient needing a patellofemoral partial knee replacement is now the Kinematch PFA (patellofemoral arthroplasty), from Kinamed.
A CT scan of the patient's knee is taken: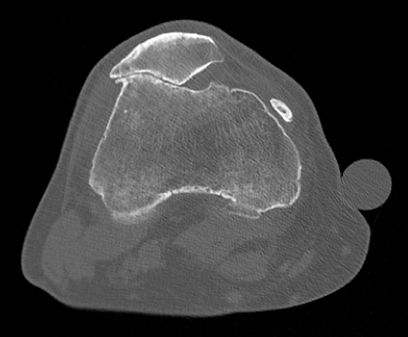 The CT data is sent to Kinamed, and they then produce a highly-detailed 3D plan of the patient's knee. From this, Kinamed then produce a precise surgical plan, with a custom-made patient-specific trochlear prosthesis that is designed to match the patient's knee perfectly.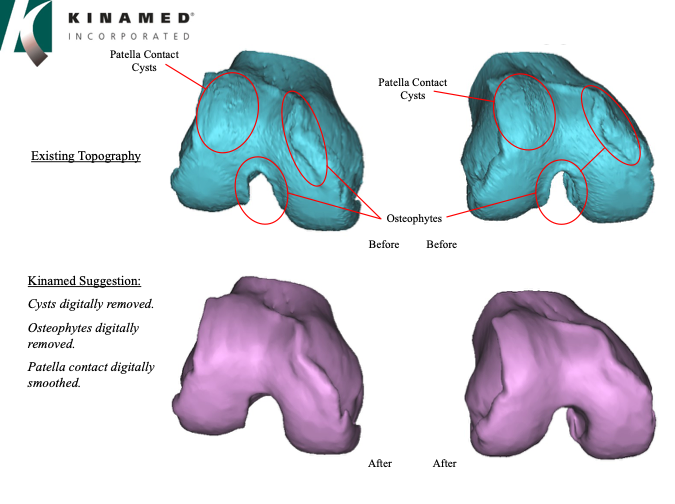 A 3D model of the patient's bone is produced for the surgeon to make direct reference to during the surgery, to ensure that the prosthesis is implanted exactly as per the 3D pre-op planning.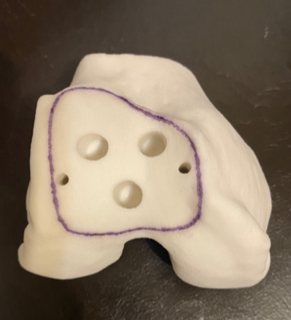 Paul's surgery
| | |
| --- | --- |
| | Knee opened up, patella everted to the side and custom-made trochlea cutting block placed. |
| | Custom-made trochlear cutting block in place. |
| | Trochlea + patella both prepared and ready. |
| | Kinematch trochlear and patellar prostheses cemented in placed, ready for closure. |
Post-op X-rays:
| | |
| --- | --- |
| | |
| Anteroposterior view. | Lateral view. |
Paul's Feedback about his knee op
I had my knee surgery on 13th of December 2022, and just 12 days later, on Boxing Day, I managed a 1 mile walk with my crutches. The improvements were visible daily, and the need for pain relief grew less and less. The 21st of January 2023 was the first day I went for a walk without using my crutches (5½ weeks post op). I walked a couple of miles around the grounds of Kedleston Hall, in Derbyshire. My knee was a little sore for the next two or three days, but nothing major and I didn't see it as a setback.
| | |
| --- | --- |
| | |
| Paul's extension at 6 weeks post-op. | Paul's flexion at 6 weeks post-op. |
| | |
| --- | --- |
| | |
| Paul at 7.5 weeks post-op. | A 3-mile walk along the river Derwent in Derby. |
Writing now at 12 weeks post-op, I'm not even thinking about my knee most of the time. If I sit with my knee at 90° for 20 minutes, there is a need to straighten it as it aches a little. Also, if I stand still for a few minutes it feels slightly puffed up when I move again, although that feeling disappears within a dozen steps. It's a strange feeling, but not uncomfortable or painful. They are the only two things that make me remember I've had a knee replacement.
| | |
| --- | --- |
| | |
| Paul at 3 months post-op. | Paul's flexion at 3 months. |
It is definitely a lot stronger now than it was before the operation, and I haven't taken any pain relief for weeks.
I am still working on my flexibility in the knee, and I feel I'm around 85 to 90% towards having full range back. I can kneel down quite comfortably, and the numbness has gone from the scar area on and above my knee. There is still minor numbness on the scar below my knee, but I can tell weekly improvements. The scar also looks great.
I've started adding weights onto the leg-curl machine at the gym, trying to strengthen my quads, something I definitely couldn't have done before the operation. I can squat around 70% of the way down now too, and it's something I am working on with more confidence. Prior to my surgery I couldn't even squat down 25%.
There is still plenty of work to do on building up my leg strength, but I'm enjoying the gym for the first time in years due to my knee now being able to cope and it not creating limits on what I can do.
Thanks once again!
Paul
---
CLICK HERE to read more about Kinematch custom-made patellofemoral partial knee replacement surgery.
---
22nd May 2023